How to peel a mango?
A lot of people I know are too scared to buy a mango even though they love them…
Why?
Because they have no idea how to peel a mango.
Are you someone who avoids buying mangoes too?
If you are, I really hope this video helps you to eat and enjoy more luscious mangoes in the future.
How To Peel A Mango (4 Ways)
Today I'm going to show you how to peel a mango and I'm not going to just show you just one method. I'm going to show you four very, very fast ways to peel a mango!
So let's go and get started. Let's go and make some magic with fruit.
1: Peeler
The first way we're going to peel a mango is using a peeler.
This is something that a lot of people don't show you, but this is what I'm going to show you first.
Get your mango and dig your peeler in. Make sure it actually gets underneath the skin.
Stick it right in and peel off the skin.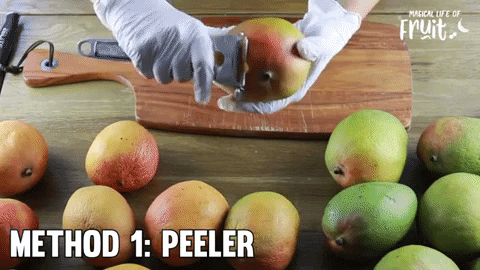 You might have to dig it in quite hard to get all of the skin off. But the benefit of using a peeler to peel a mango is that there is zero wastage. Sometimes if you use a knife, you can end up taking off too much of the flesh and therefore wasting the mango.
Also, this makes a very, very nice clean surface for your mango. Now your mango is free to do what you want to.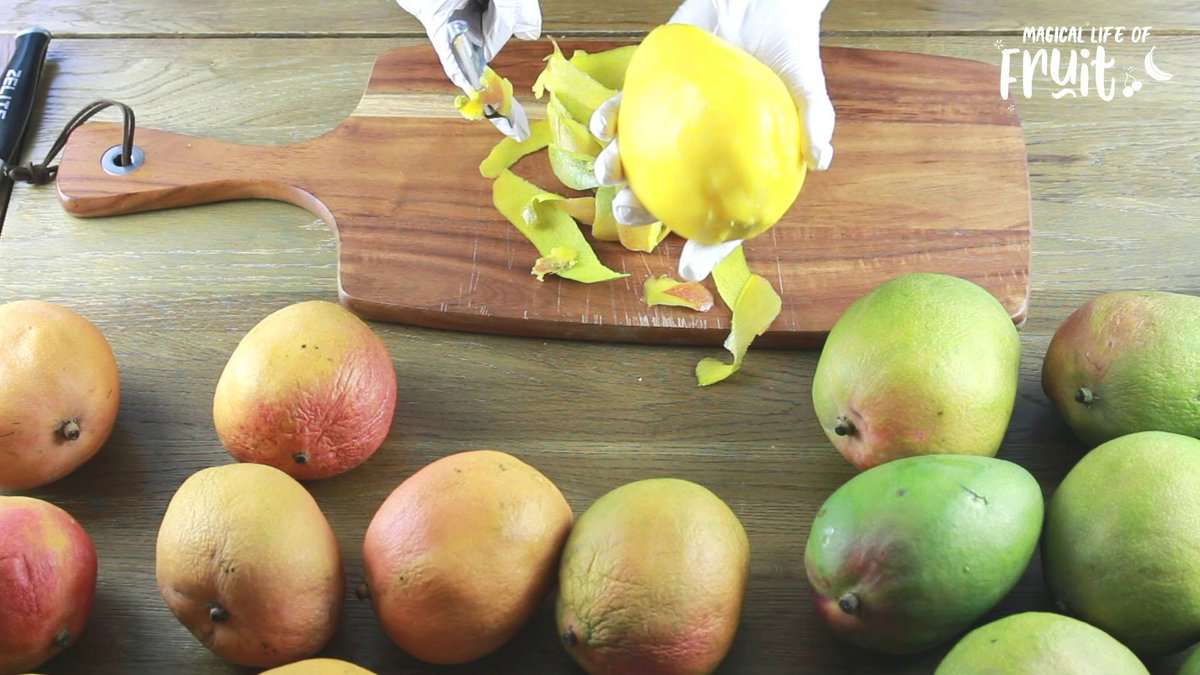 You can just eat it like that. Or, you can slice it!
2: Cross Peel
Here is another way to eat the mango which you can do either using your fingers or a knife.
Using Your Fingers
Say if you're out and about and you just want to eat a mango but you don't have any way to chop it? Then you can use your fingers!
Just dig your nails in and then simply peel off the skin.
Using A Knife
Or if you're at home you want to give mangoes to your kids, this is a good way for that.
You can slice crosses on the top of the mango with a knife.

And then peel (rip) the skin down halfway, not all the way down.
And then you can give it to your kids. This way they can hold it from the bottom and bite it along the top and then when they get a bit further down they can just peel it a bit more as they go.
Or just peel off the entire skin if you want to!
The skin comes off really, really easily in ripe mangoes. I don't even need a peeler or a knife!
3: Hedgehog
This is a cool technique that you can use for cutting mangoes.
First cut the cheeks off from both sides.
Then make a little hedgehog, by slicing checkerboards in each cheek. Make cuts lengthwise and then horizontally. Make sure you don't cut through the skin at the bottom!
When this is done, just use your thumbs and fingers to press underneath and push the flesh up.
You can serve it just like that or cut off the square pieces of mango into a bowl. To do that all you do is you push your knife along the bottom of the mango and get all pieces of mango off.
Could it be any easier to do?
4: Slice & Scoop
Finally, I'm going to show you a tool that I really like that makes eating a mango very, very fast. This should take you seconds, especially once you've had some practice and is handy if you're in a rush and don't have much time to waste.
Get your mango and slice off the cheeks very, very quickly.

Then get your mango tool (which has these little ridges in it) and simply dig it in to the flesh of the cheek.

Drag the tool through the flesh.
This scoops and slices the mango so you can just place that in a bowl and eat it!
It's a very, very quick way to eat a mango.
It took me seconds and this tool can also be used for other fruits as well, like avocado and papaya.
I like to eat a mango and papaya at the same time in a bowl. I think the combination is just beautiful, so I like to use my tool for both of those.
How To Peel A Mango (4 Ways)
You can watch the full YouTube video related to this post here. I want to encourage you to like it and to subscribe to Magical Life Of Fruit YouTube channel, and to share it so that you can spread the magical life of fruit message and all the fruity love to help transform other people's lives too.
I would really appreciate that. Thank you so much!
And until next time, I really hope that you go make your own magical life of fruit.
Resources mentioned in this video:
1) Free Magical Fruit Recipe Book
Get my new FREE Magical Life of Fruit Recipe Book by clicking here.
2) Related Resources You Might Like
I've compiled a list of helpful resources that will help you take things to the next level:
3)
Follow
Magical Life Of Fruit Social Media Channels:
I share different content on each platform and I can't wait to connect with you over there.
If you enjoyed this article, How To Peel A Mango (4 Ways) please let me know your thoughts in the comments.
Latest posts by Katherine Kyle
(see all)