This skin-on boiled white potato recipe is simple and easy. Each serving contains around 100 calories. Here are the instructions for the stove, instant pot, and microwave.
These boiled potatoes are so versatile. If you keep a batch of these in your fridge, you can whip up a quick potato side dish in just a couple of minutes.
I like to slice cooked potatoes and sprinkle them with a bit of seasoning and make fries in my air fryer. I make fries for my son, while my daughter loves mash. So I'll mash some of these potatoes with some plant-based milk and plant-based butter and warm it up on the stove.
Having cooked potatoes in the fridge at all times is a winner for our whole family.
You can either cook white potatoes with the skins on or off. Here's a quick way to remove the skins without getting out your peeler. Just score a ring around the outside of the potato with a knife. When the potato is cooked, it's much quicker to just pull off the skin. You can watch my video for a demonstration.
Video Demonstration
If you'd like to see how easy it is to throw all this together, check out my video where I walk you through the recipe step by step.
Click here to subscribe to my Youtube channel.
How This Recipe Fits In The Plant Plate System
Each of the recipes I create fits into my Plant Plate System. This system incorporates 5 food groups into every meal.
The 5 food groups are 1) Plant Protein, 2), Leaves, Fruit, And Veg, 3) Aesthetic Additions, 4) Nutrient Packed Carbohydrates, and 5) Taste
This recipe is a nutrient-packed carb side dish, and is not a complete meal.
The diagram below helps you see the 5 different components of a Plant-Based Plate.
Click here to discover more about my Plant Plate System and some of the benefits of eating this way.
Recommended Equipment
Here is the kitchen equipment I have used to create this recipe.
How To Make This Recipe
Cook the potatoes in a pan of boiling water.
Drain the potatoes once done and you are ready to serve or store for a later date.
Ways To Use This Recipe
Here are some of my favorite things to serve with boiled potatoes:
Tofu
Vegan creamed cauliflower
Grilled vegetables
Ingredient Substitutions
White Potato: If you don't want to use large white potatoes, you can either use baby white potatoes or sweet potatoes. The smaller the potatoes, the shorter time they need to cook. A small potato might need 10-15 minutes to boil. You can leave the skin on sweet potatoes or remove it, it's totally up to you.
Serving Sizes
If you're following a reduced-calorie diet, add 140g of potato to your meal to serve one person. This will give you just over 100 calories.
Storage
These boiled potatoes keeps for up to 4 days in the fridge in an air-tight container. It also freezes well for up to 3 months. Defrost it before using it. Reheat it by warming it up gently in a microwave or oven.
Other Nutritious Carbs Side Dishes Recipes
Here are some more of my favorite Nutritious Carbs recipes:
7 Day Meal Plan
🥬️🥭️ If you want to discover all of the benefits of eating a plant-based, gluten-free diet, grab a copy of my 7-day meal plan by Green Thickies.
My 7-day detox has been doctor and nutritionist approved and featured on a major national TV channel.
Thousands of people have had incredible results with this meal plan.
Click here to read more about it.
FREE Gifts
🥗 Free Smoothies (Drink And Shrink) Bundle
For A Limited Time, Grab Your FREE 260+ Page Smoothies (Drink And Shrink) Bundle From Green Thickies.
Click here to grab your copy FREE.
🎩 5 Magical Fruit Recipes Book
Recipe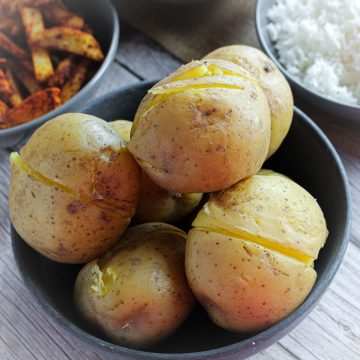 Easy Skin On Boiled Potato (Vegan, Gluten Free)
This skin-on boiled white potato recipe is simple and easy. Each serving contains around 100 calories. Here are the instructions for the stove, instant pot, and microwave.
Ingredients
560

Grams

White Potatoes

1

Teaspoon

Sea Salt

2

Liters

Boiling Water
Instructions
Bring a kettle full of water to a boil and pour it into a large pan.

Add the potatoes to the pan with the sea salt.

Turn the heat high and bring the water back to a boil.

Simmer for 30-40 minutes until you can easily stick a fork all the way through one of the potatoes. This is when you know the potatoes are soft inside and cooked all the way through.

You can either eat them straight away or store them in the fridge or freezer for a later date.
Video
Nutrition
Serving:
141
g
Calories:
96.6
kcal
Carbohydrates:
22
g
Protein:
2.4
g
Fat:
0.1
g
Polyunsaturated Fat:
0.01
g
Monounsaturated Fat:
0.06
g
Sodium:
606.9
mg
Potassium:
569.8
mg
Fiber:
3.36
g
Sugar:
1.61
g
Vitamin A:
3.36
IU
Vitamin C:
12.74
mg
Calcium:
13.93
mg
Iron:
0.73
mg
Now it's your turn to make magic in the kitchen.
Latest posts by Katherine Kyle
(see all)