Try out this delicious falafel gyro recipe for a speedy lunch or dinner! Just 2 minutes of prep time and you can enjoy a plant-based meal under 400 calories and 12.5g of protein per serving.
This falafel gyro recipe makes an extra special lunch or a speedy dinner. The best thing about this delicious recipe is that you can make it very quickly in just 2 minutes if you use store-bought ingredients. Or you can make the entire meal from scratch like I did if you have a little bit more time.
A gyro typically consists of shaved meat on top of a pita with some salad. As this is a vegan recipe, we can add anything we like in place of the gyro meat, so why not try a gyro with some falafel? This was a match made in heaven for me, and a recipe that I have on repeat in my household.
You don't have to do any cooking with this gyro recipe. This only takes 2 minutes of time to prepare.
One serving of this recipe is just below 400 calories and there is 12.5g of protein in each.
From salads to spreads, there are a lot of versatile ways to enjoy this recipe in a variety of dishes.
Falafel can be served in sandwiches, wraps, or in a bowl. Adding it to a wrap with some salad dressed in a creamy Italian dressing, and drizzled with a hot sauce makes for an easy, delicious, and healthy meal on the go.
For a larger meal, you can use falafel as a topping over a bowl of rice and vegetables, or serve it as a savory falafel platter, including other Middle Eastern-inspired dishes like my oil and tahini-free hummus. It makes for an exquisite spread that can be shared with family and friends.
For my family, I often eat these falafels with Mediterranean Yellow Rice, chickpea and lentil curry, and easy but delicious Russian pickled tomatoes.
Check out this post to find the best falafel sides.
There are endless possibilities for this recipe, so be creative and enjoy a flavorful falafel dish today!
Jump to:
Why You'll Love This Recipe
This recipe contains 396.9 calories per serving
This recipe contains 12.5g of protein per serving
One serving of this recipe contains 50% of your recommended daily intake of vitamin C.
This recipe is made from a combination of vegan protein, whole food sources of carbohydrates, vegetables, essential fats, and ingredients that make the dish extremely tasty.
This easy recipe takes 2 minutes of active preparation time only and no cooking.
This recipe is made extra tasty by the addition of pickled tomatoes and falafel hot sauce.
I have simplified this recipe by limiting the number of ingredients and using everyday, simple ingredients such as X and X.
This recipe and all recipes on my website are vegan, plant-based, gluten-free, dairy-free, egg-free, lactose-free, free from refined sugar, vegetarian, and are based on whole foods.
All of my recipes follow my own diet plan called the Plant Plate 400. In addition, my recipes also adhere to the following diets, the Mediterranean diet, the 1200 Calories a Day diet, Clean eating, the Macrobiotic diet, the Alkaline diet, the Ornish diet, the Daniel Fast, and the Starch Solution diet.
Ingredients
Ingredient Substitutions
The Structure Of A Plant Based Plate
Each of the recipes I create fits into my Plant Plate System. This system incorporates 5 food groups into every meal.
The 5 food groups are 1) Plant Protein, 2), Leaves, Fruit, And Veg, 3) Aesthetic Additions, 4) Nutrient Packed Carbohydrates, and 5) Taste
This recipe is a complete meal because it contains all 5 components of my Plant Plate and contains around 400 calories per meal.
The diagram below helps you see the 5 different components of a Plant-Based Plate.
Click here to discover more about my Plant Plate System and some of the benefits of eating this way.
Here's how this recipe is structured according to the Plant Plate System.
Adding each ingredient to the following categories helps you to easily see how to make substitutions. It also lets you know the exact reason why the ingredient is in the recipe.
Plant-Based Protein
Leaves, Fruit & Veg
Pickled tomatoes
Spinach or salad leaves
Aesthetic Additions
Nutrient Packed Carbohydrates
Flatbread
Hummus
Middle East falafels
Taste
How To Make This Recipe
Here is a brief summary of the steps needed to make the recipe. See the recipe card at the bottom of this post for the full detailed instructions.
Spread the hummus on the flatbread and top with the other ingredients.
Frequently Asked Questions
What is the difference between gyros and falafel?
Falafels are a typically vegetarian food made from chickpea flour or fava beans. While gyros are made from meat cooked on the spot. So they are two completely different types of food.
Is gyro the same as shawarma?
Gyros and shawarmas have similarities such as their cooking method and ingredients. But the main difference is in their origins and flavors. Shawarmas are Middle Eastern and have a spicier flavor profile than gyros. While gyros are of Greek origin and have a more fresh taste than shawarmas.
How To Store Leftovers
This recipe keeps for up to 4 days in the fridge in an airtight container. Once assembled it is best used the same day.
WAYS TO USE THIS RECIPE
Here are some of my favorite ways to use this recipe:
Creamy Chickpea And Lentil Curry Recipe
Falafel Over Rice Recipe (Vegan Buddha Bowl)
Falafel Platter Recipe (Vegan Mezze Plate)
Vegan Carbohydrate Side Dishes
Serve this recipe with any of the following carb side dishes which are all around 100 calories per serving:
For more options, see all of my best vegan, gluten-free carbs side dishes.
Vegan Vegetable Side Dishes
Here are some vegetable side dishes that go very nicely with this recipe which are all under 100 calories per serving.
For more options, see all of my best gluten-free vegan vegetable side dishes.
Vegan Meat Side Dishes
Here are some vegan meat side dishes that go very nicely with this recipe, and are great substitutes for regular meat. These are all under 150 calories per serving.
For more options, see all of my best gluten-free vegan meat recipes.
Vegan Dips
Here are some vegan dips or vegan sauces that go very nicely with this recipe, and are very quick to make. These are all under 50 calories per serving.
For more options, see all of my best gluten-free vegan dips recipes.
More Tasty Vegan Dinner Recipes
If you're looking for some easy, vegan dinners, that are around 400 calories per serving, check out some of my other recipes:
You can see all of my 400-calorie vegan meals here.
🥬️🥭️ 7 Day Meal Plan
If you want to discover all of the benefits of eating a plant-based, gluten-free diet, grab a copy of my 7-day meal plan by Green Thickies.
My 7-day detox has been doctor and nutritionist approved and featured on a major national TV channel.
Thousands of people have had incredible results with this meal plan.
Click here to read more about it.
FREE Gifts
🥗 Free Smoothies (Drink And Shrink) Bundle
For A Limited Time, Grab Your FREE 260+ Page Smoothies (Drink And Shrink) Bundle From Green Thickies.
Click here to grab your copy FREE.
🎩 5 Magical Fruit Recipes Book
If you're looking for some easy, raw, fruit-based, complete meal recipes, grab my free recipe book now.
Recipe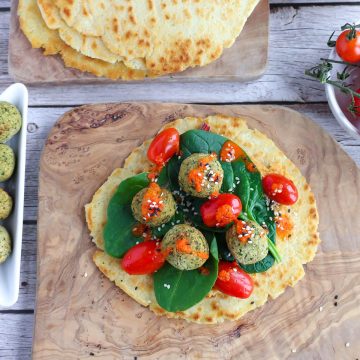 Falafel Gyro
Instructions
Spread the hummus out over the flatbread.

Top with the leaves, pickles, the falafels and the hot sauce.
Notes
Storage:
This recipe keeps in the fridge for up to 4 days in an air-tight container but it is best eaten the same day once it is assembled.
Nutritional Information:
The nutritional information is for one serving of the recipe including side dishes, sauces, veg, garnishes, and all other elements listed under the ingredients.
Ingredient Swaps
Almost all ingredients can be swapped for other ingredients.  See the section called Ingredients substitutions in the blog post for easy ingredient swaps. 
Nutrition
Serving:
611
g
Calories:
396.9
kcal
Carbohydrates:
73.2
g
Protein:
12.5
g
Fat:
7.5
g
Saturated Fat:
1.1
g
Polyunsaturated Fat:
2.6
g
Monounsaturated Fat:
2.1
g
Sodium:
2432.2
mg
Potassium:
552.4
mg
Fiber:
8.9
g
Sugar:
7.9
g
Vitamin A:
166.9
IU
Vitamin C:
40.1
mg
Calcium:
132.6
mg
Iron:
2.7
mg
Now it's your turn to make magic with food.
Latest posts by Katherine Kyle
(see all)