Today I'm showing you How To Peel A Banana. You might be thinking, well I already know how to peel a banana? Well I'm going to show you 10 different ways that you've never seen before.
We might not be able to get any variety when it comes to the taste of bananas, but you can always get some variety when it comes to peeling a banana! Impress your friends with these impressive 10 ways to peel a banana.
How To Peel A Banana (10 Ways)
1) Standard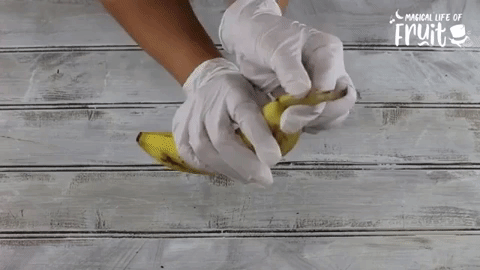 Hold one hand close to the stem, while the other hand pulls back the stem until it breaks. The riper the banana, the easier it is to peel this way.
2) Banana Share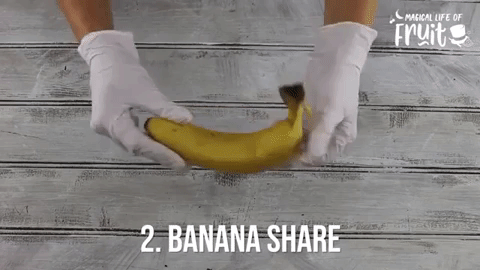 This is great for kids who don't want to eat a whole banana. Just put both of your hands into the middle of the banana and snap it in half.
3) Monkey Magic
Monkeys are very clever when it comes to holding a banana.  They give themselves the stem to hold the banana. Simply squeeze the end of the banana until it splits, then peel it from the bottom.
4) Twist and Peel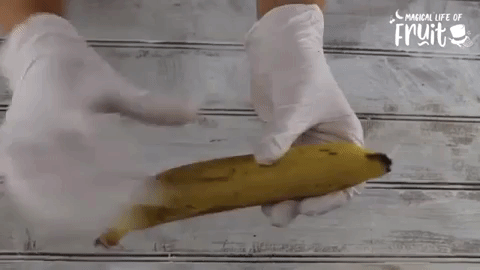 Grasp the banana in the centre.  Twist your fingers in different directions.  The skin will snap open and you can peel the banana from the middle.
5) Gravity Peel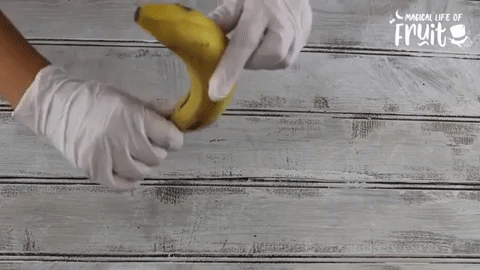 Hold the stem with the banana upside down and throw it away from you.  It will snap the stem and start peeling the banana
6) Chef's Chop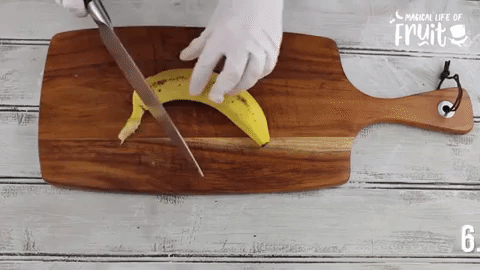 Use a sharp knife to cut off both ends of the banana, slice lengthways down the banana peel.
7) Baby Fingers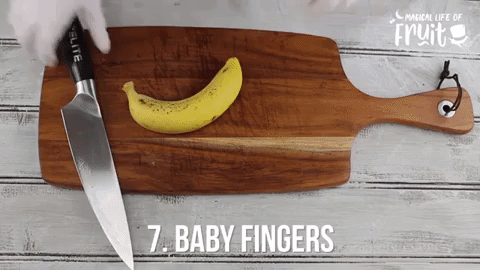 Slice the banana all the way down leaving the skin around each circle. This makes it fun for babies to push the banana out of the skin and easy for them to get a good grip on the banana.
8) Length Slice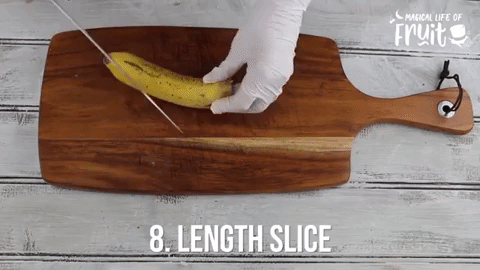 Slice the knife lengthways down the banana which slices the whole banana in half.  This is a great quick way to slice a banana if you are dehydrating long strips of banana.
9) Frozen Peel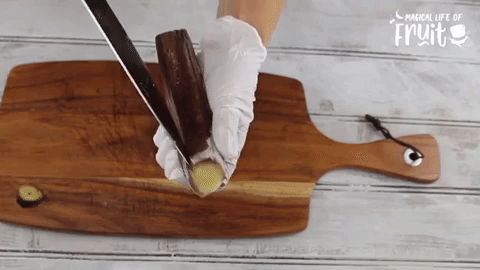 How to peel a frozen banana?  This is a bit trickier because banana peels are stuck tight on when they come straight out of the freezer. There are 3 ways to do this. But I'm just going to show you one way today.
The first way is to wait 5 minutes until your banana has thawed a little bit. Slice off the ends of the banana. Slice the banana in half lengthways and peel using your hands.
Click here for my full video tutorial on How To Freeze Bananas.  
10) 3 Section Pusher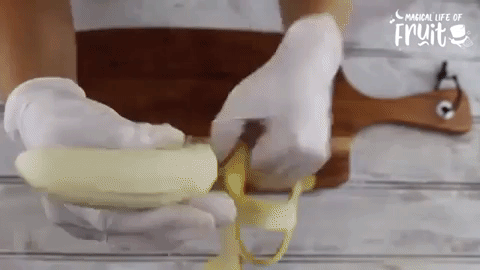 Peel a banana as normal.  Use your thumb to push downwards from the top of the banana. The banana should split into 3 natural segments. This is also perfect for making cinnamon rolls. See my recipe Cinnamon Rolls  (ONLY FRUIT, NO BAKE).   
I've also got one more really cool banana trick I'd like to show you.  I have a video showing you my MAGICAL Banana Slicer Trick.  It's pretty unbelievable.  Click here to check that out.
Do you remember all the different methods?
Here's a quick recap for you of how to peel a banana, 10 ways.
Standard
Banana Share
Monkey Magic
Twist and Peel
Gravity Peel
Chef's Chop
Baby Fingers
Length Slice
Frozen Peel
3 Section Pusher
Magical Resources
1) Magical Tools
2) This Month's Special Offers
Buy 2 Fruit gadgets, Get 1 FREE. Available in the store while stocks last. Click here to get that offer now.
3) Free Magical Fruit Recipe Book
Get my new FREE Magical Life of Fruit Recipe Book by clicking here.
4) Enter The Giveaway
Every Sunday I run a brand new giveaway. Enter for a chance to win! 
Win a handy magical fruit tool from the Magical Life Of Fruit Store. 
Today we're giving away this Magical Manual Orange 
Juicer. With this tool, you can make orange 
 juice in just a few seconds with no mess, no electricity and no hard force needed. Just slice your orange 
 in half, place half into the tool and twist the top around. The juice flows into the self contained cup at the bottom in seconds.
We are also giving away this awesome recipe book by Green Thickies containing 80 sweet delicious, filling, complete meal green smoothies, so you get all your nutrients, cravings go away and your weight will fall off by replacing meals with these Green Thickies. (GreenThickies.com) Plus you get a FREE smoothie bottle with this book too.
Watch Sunday's video to find out how to enter.
Then click here to go to the video to comment.
5) Related Resources You Might Like
I've compiled a list of helpful resources that will help you take things to the next level:
6) Follow Magical Life Of Fruit Social Media Channels:
I share different content on each platform and I can't wait to connect with you over there.
If you enjoyed this article, How To Peel A Banana please let  me know your thoughts in the comments.