Would it help you eat more fruit if you knew how to ripen bananas faster?  
A lot of people struggle to have bananas ripe and ready when they need them.  They are often not ripe enough for eating, or the other extreme which is they have been left for so long they have gone bad.  
I used to also have this problem.  
And the key is knowing at what speed you can ripen your bananas and how to speed up the ripening process. Which is what I'm going to show you in this video.
Today I'm sharing with you how to ripen bananas super fast.  
It's very easy! 
You are going to feel so confident that you can now get organised with your banana ripening process and have healthy food at hand whenever you need it.
Continue reading to find out how to ripen bananas fast and easy…
Here's how to ripen bananas fast!
1) Using warmth
Store the bananas in a warm place in your house such as on top of the fridge, on a window ledge or in a boiler cupboard.  
The perfect temperature for ripening bananas is 65–68ºF (18–20ºC). Use a thermometer to check the temperature of your room.
2) Using humidity
Bananas like humidity.  If your house is quite dry, try out one of the options below: 
Run a humidifier 
Or use a diffuser
Or leave out bowls of water.  
3) Using a paper bag
Place the bananas in a brown paper bag

4) Using a plastic bag
Place the bananas in a plastic bag.  Make sure the plastic bag has some air holes in it or the fruit might go soft.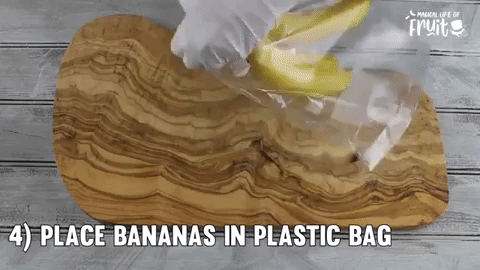 5) Using another fruit
Add another fruit to the bag such as an apple to release ethylene gas which is a natural gas contained in the fruit that triggers ripening.  Use the ripest fruit you have.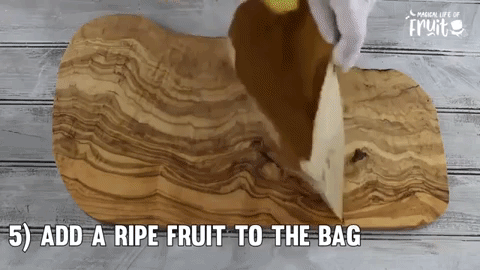 *Note: Check the bananas every day.  The bananas will usually ripen within 2 days, but may take longer if they are very green to start with.
How To Ripen Bananas Even Faster (Within 1 Day or 1 Hour)
It is much better for your health to wait until bananas are truly ripened before eating them.  
But if you just can't wait, here are 2 ways to speed up the ripening process even more quickly.  
1) You can use a dehydrator
This gently warms up the banana making it ripen much more quickly.
Leave the skin on your banana and place on a dehydrator sheet. 
Dehydrate at 45C/115F for up to 24 hours.
Check your banana and feel how soft it is after 6 hours as that might be long enough depending on how yellow your banana was to start with. 
2) You can use an oven
If you really can't wait for a ripe banana and you're not as concerned with lost nutrients, you can bake your banana in the oven.  
Being a raw foodist this is not something I would choose to do, but if I didn't have any ripe fruit around me, I certainly would do this.  
Put your oven on the lowest temperature it goes to which might be around 77C/170F and place the unpeeled bananas on a non slip baking mat.  
Bake for 20-30 minutes. The skin will go black.  
Check on them after 15 minutes to see if they are ripe enough.  
The banana will be mushy but they will be perfect for a banana bread, banana pudding or a banana smoothie.
Magical Resources
1) Magical Tools
2) This Month's Special Offers
Buy 2 Fruit gadgets, Get 1 FREE.  Available in the store while stocks last.  Click here to get that offer now.  
3) Free Magical Fruit Recipe Book
Get my new FREE Magical Life of Fruit Recipe Book by clicking here. 
4) Enter The Giveaway
Enter for a chance to win!  ???
Win a handy magical fruit tool from the Magical Life Of Fruit Store. ??
Today we're giving away this handy apple corer. ? This tool can be used to make your own perfect apple rings in seconds.  Just remove the core, then slice into rounds. You can sprinkle some cinnamon on top, or even pop the apple rings into the dehydrator to make dried apple chips.  
Nature's own candy!
We are also giving away this awesome recipe book by Green Thickies containing 80 sweet delicious, filling, complete meal green smoothies, so you get all your nutrients, cravings go away and your weight will fall off by replacing meals with these Green Thickies. (GreenThickies.com)  Plus you get a FREE smoothie bottle with this book too.
Watch the video to find out how to enter.  
Then click here to go to the video to comment.
5) Related Resources You Might Like
I've compiled a list of helpful resources that will help you take things to the next level:
6) FollowMagical Life Of Fruit Social Media Channels:
I share different content on each platform and I can't wait to connect with you over there.
If you enjoyed this article, How To Ripen Bananas Fast,  please let me know your thoughts in the comments.