Today I'm sharing my MAGICAL Banana Slicer Trick, which is a really fun way to slice a banana and a party trick you can use to impress your friends and totally amaze your kids.
I share fascinating fruit facts, practical fruit demonstrations, and mouth-watering fruit recipes. I also bust some myths surrounding fruit so I can inspire you to start eating more fruit in your diet so you can experience the energy, happiness and lean, strong body that WILL come naturally to you when you start eating natural foods.
Every month I focus on going deep into a different type of fruit. This month it is bananas and I think you're going to LOVE what I have to share.
MAGICAL Banana Slicer Trick
My little boy is really fussy with fruit. He gets bored with it very quickly. But when I make fruit exciting like this, he is much more likely to eat it, and seeing this banana slicer trick never gets old.
Imagine giving someone a banana and telling them to peel it. The banana has never been opened but when they open it they see that it's already been sliced. Wow! That's FRUIT MAGIC!
So how did I do it?
Here's the secret….
Simply get a sewing needle and make small holes all the way down the banana following one of the lines.
Push your needle all the way into the banana and move it from left to right. This is the action that slices the banana.
Do this all the way down, and hey presto. An unpeeled sliced banana!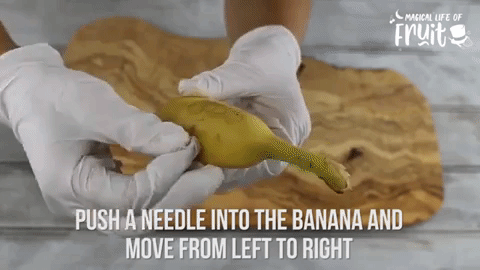 I hope you enjoyed this MAGICAL Banana Slicer Trick.
Continue reading to the resources section to get the details of my giveaway and another free gift.
Please give this video a thumbs up and subscribe to Magical Life Of Fruit Channel and don't forget to hit that bell.
If you liked this video you'll probably like some of my other posts in my "How To Eat A banana Series" such as 17 Banana Facts That'll BLOW YOUR MIND, or Is A Banana A Berry? I Reveal THE TRUTH. I'll link to those posts and other related posts and videos below in the resources.
Magical Resources
1) Magical Tools
2) This Month's Special Offers
Buy 2 Fruit gadgets, Get 1 FREE.  Available in the store while stocks last.  Click here to get that offer now.
3) Free Magical Fruit Recipe Book
Get my new FREE Magical Life of Fruit Recipe Book by clicking here.
4) Enter The Giveaway
Every Sunday I run a brand new giveaway.  Enter for a chance to win! ???

Win a handy magical fruit tool from the Magical Life Of Fruit Store. ??

Today we're giving away this Perfect Banana Slicer. ? This tool can be used to create uniform banana slices in seconds.  Just place the banana ? underneath and push down. Your whole banana is sliced. This is a perfect tool if you freeze banana slices for ice cream, if you make banana candy or if you like to top your smoothie bowls with bananas.?  

We are also giving away this awesome recipe book by Green Thickies containing 80 sweet delicious, filling, complete meal green smoothies, so you get all your nutrients, cravings go away and your weight will fall off by replacing meals with these Green Thickies. (GreenThickies.com) Plus you get a FREE smoothie bottle with this book too.

To enter, all you have to do is pop over to the Magical Life Of Fruit Youtube channel, subscribe and comment on last Sunday's video.  ?
Then click here to go to the video to comment.
5) Related Resources You Might Like
I've compiled a list of helpful resources that will help you take things to the next level:
6) Follow Magical Life Of Fruit Social Media Channels:
I share different content on each platform and I can't wait to connect with you over there.
If you enjoyed this MAGICAL Banana Slicer Trick,  please let me know your thoughts in the comments.