A question I often get asked is how to keep bananas from turning brown?
Today I'm sharing 10 genius hacks that will stop your bananas turning brown, so that you can save money, avoid waste and always have perfectly ripe bananas to eat when you need them.
I share fascinating fruit facts, practical fruit demonstrations, and mouth-watering fruit recipes. I also bust some myths surrounding fruit so I can inspire you to start eating more fruit in your diet so you can experience the energy, happiness and a lean, strong body that WILL come naturally to you when you start eating natural foods.
Every month I focus on going deep into a different type of fruit. This month it is bananas and I think you're going to LOVE what I have to share.
You know what it's like when suddenly you're hungry or you've decided today is the day to be healthy, or you need a quick pick me up as you're walking out of the door?  
You know you bought bananas recently, but when you reach for one, you find it's all black, swarming with flies and only good for the compost bin. I know, I've been there myself!
But thankfully I found 10 genius hacks to keep my bananas from turning brown.
And today I'm sharing them with you!
How To Keep Bananas From Turning Brown – 10 Genius Hacks
1) Wrap The Stems
Wrap the stems in plastic wrap
.
 The main way in which bananas ripen is by releasing gasses from the stems.  So if you cover up the stems, you're able to slow down the ripening process.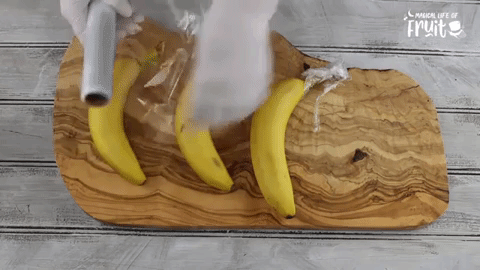 2) Store Away From Other Fruit
Keep your bananas separate from all other fruits including other ripe bananas.  Fruits let off ethylene gas when they are ripening, so keeping ripe fruit with unripe fruit will cause the unripe fruit to ripen more quickly.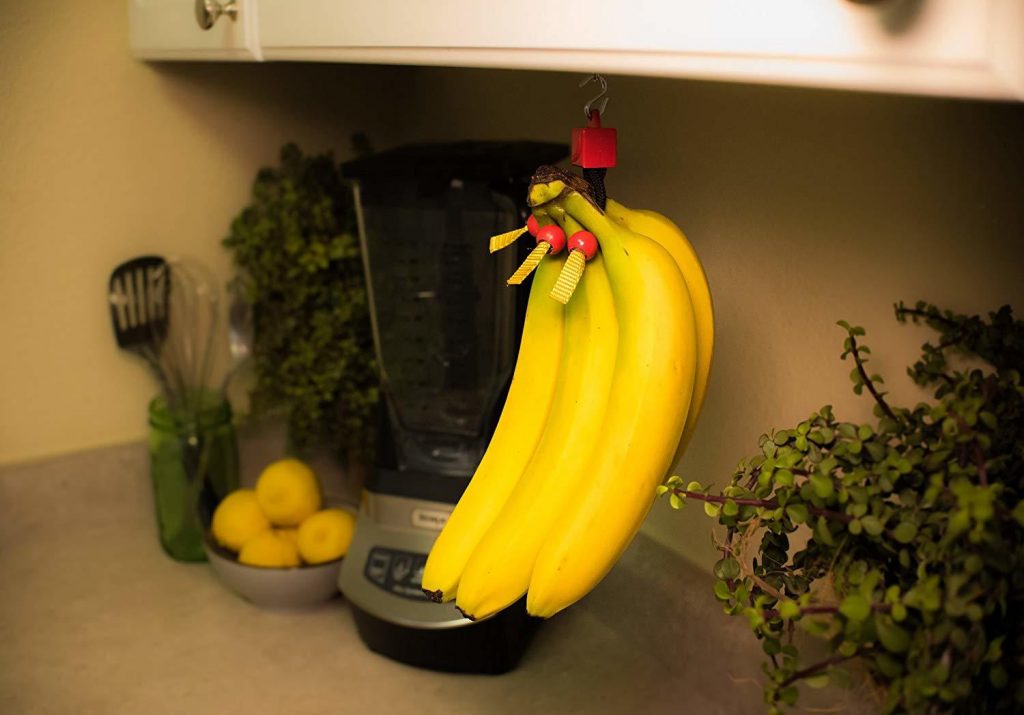 3) Store In A Colder Room
Unwrap your bananas from plastic bags and place them in the coldest part of a room (not the fridge). Heat from a bag or from a heated room causes bananas to ripen much more quickly.
4) Buy Green Bananas
Buy green bananas.  If you want your bananas to last longer, buy them greener in the first place.
5) Divide Your Bunch Of Bananas
Divide your bananas up.  Bananas ripen faster when you leave them in a bunch together.
6) Rub Citrus Juice On Peeled Bananas
If you've already cut up your banana and want to keep it from going bad, rub some lemon, lime or orange juice over the flesh to keep it fresher for longer. (Get your own lemon squeezer here)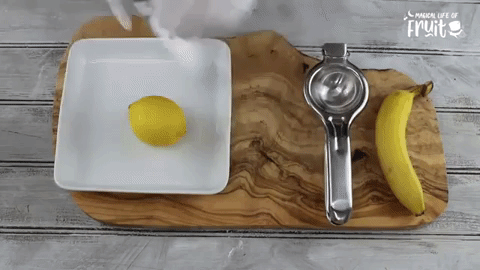 7) Use A Banana Saver
Use a banana saver to transport your banana to work or school with you.  This also helps to keep the banana fresher for longer.
You can get the banana saver free right now in the Magical Life Of Fruit store by buying 2 other fruit tools.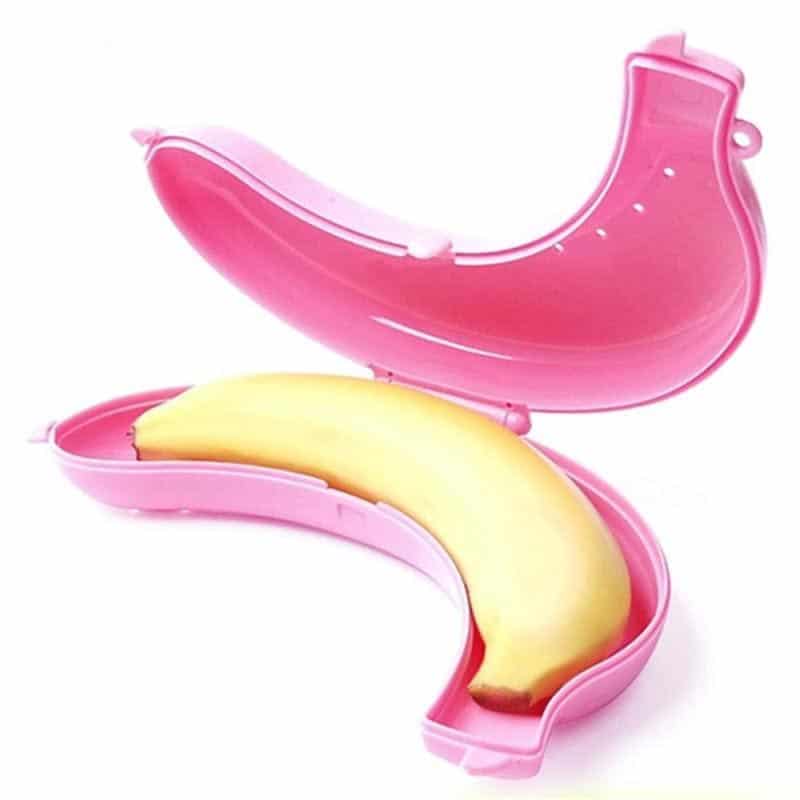 8) Use A Preservation Box Or Bag
Use a food produce preservation box
or bag to keep the banana from going bad.  
This box or bag can be used out or inside the fridge and can keep produce fresher for a week or two longer.  
This product is also available as part of the buy 2, get one free offer in the Magical Life Of Fruit store right now.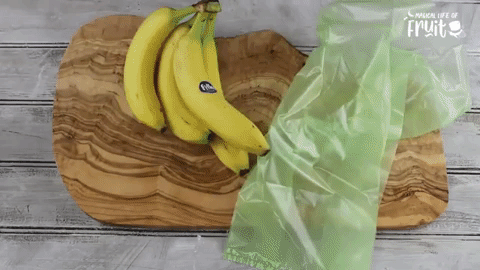 9) Place In The Fridge
If your banana is perfectly ripe, you can store it in the fridge. The skin will go black but the inside of the banana will stay fresh for up to two weeks.
*Note: Don't put your banana in the fridge if it's not yet ripe as it will not turn ripe in the fridge.
10) Place In The Freezer
If you have ripe bananas and want to save them, either put them in the freezer with their skins still on. This is great for when you want to add frozen bananas to smoothies.
If you want to make ice cream, peel and freeze banana chunks to make it easier to blend.  You can store bananas in the freezer for up to 4 months.
Phew!  That was a lot of information.  
Here's a quick recap to help you remember these 10 genius hacks on how to keep bananas from turning brown:
Wrap the stems

Store away from other fruit

Store in a colder room

Buy green bananas

Divide your bananas

Rub citrus on peeled bananas

Use a banana saver

Use a food produce bag or box

Place in the fridge

Place in the freezer
Magical Resources
1) Magical Tools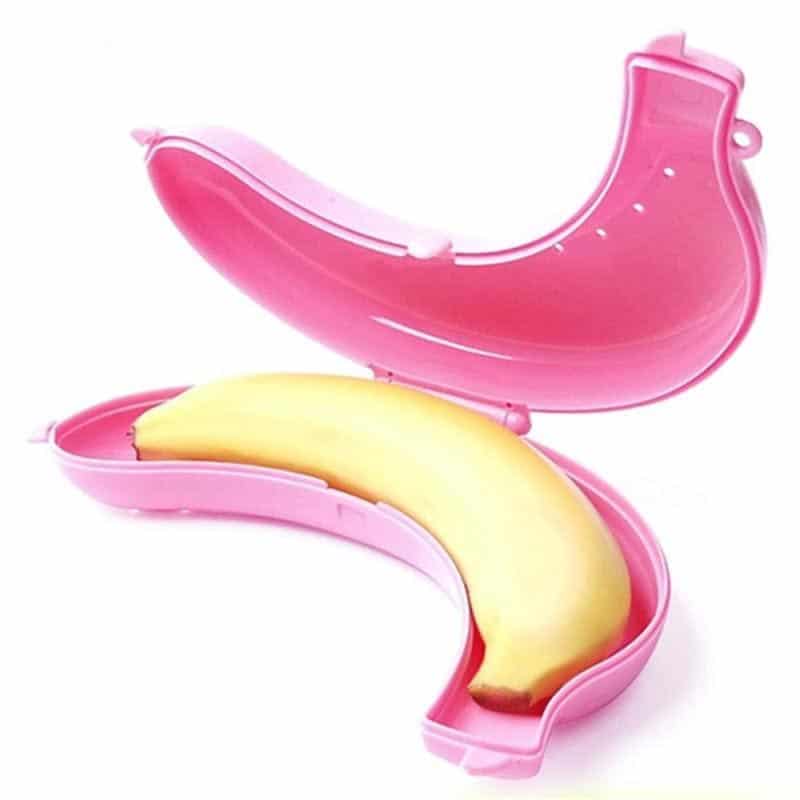 2) This Month's Special Offers 
Buy 2 Fruit gadgets, Get 1 FREE.  Available in the store while stocks last.  Click here to get that offer now.
3) Free Magical Fruit Recipe Book
Get my new FREE Magical Life of Fruit Recipe Book by clicking here.  
4) Enter The Giveaway
Every Sunday I run a brand new giveaway.  Enter for a chance to win! ???

Win a handy magical fruit tool from the Magical Life Of Fruit Store. ??

Today we're giving away this handy apple corer. ? This tool can be used to make your own perfect apple rings in seconds.  Just remove the core, then slice into rounds. You can sprinkle some cinnamon on top, or even pop the apple rings into the dehydrator to make dried apple chips.  

Nature's own candy!
We are also giving away this awesome recipe book by Green Thickies containing 80 sweet delicious, filling, complete meal green smoothies, so you get all your nutrients, cravings go away and your weight will fall off by replacing meals with these Green Thickies. (GreenThickies.com) Plus you get a FREE smoothie bottle with this book too.
Watch Sunday's video to find out how to enter.  
Then click here to go to the video to comment.
5) Related Resources You Might Like
I've compiled a list of helpful resources that will help you take things to the next level:
6) Follow Magical Life Of Fruit Social Media Channels:
I share different content on each platform and I can't wait to connect with you over there.
If you enjoyed this article, How To Keep Bananas From Turning Brown please let  me know your thoughts in the comments.