This vegan, gluten free gravy is ready almost instantly because it can be made entirely from simple ingredients you'll already have. It also requires no chopping.
I made it my mission to develop an instant gravy recipe that I could throw together just before I served up a meal. I finally achieved my goal and created this delicious gravy.
I was never a fan of traditional gravy and always preferred instant gravy for some reason.
This easy vegan gravy is pretty much instant. You add a few pantry ingredients together and pour on boiling water, and your gravy is ready in a flash.
I also love this recipe because it is under 50 calories per serving, and for that reason I eat this gravy every week. You don't have to wait until the holiday season to make this recipe.
This gravy is so delicious and goes with so many things, especially vegan pies, vegetables and potatoes.
Jump to:
Why You'll Love This Recipe
This recipe and all recipes on my website are suitable for the special diets, vegan, plant based, gluten free, dairy free, egg free, free from refined sugar, and vegetarian
This recipe contains 49 calories per serving
This is the best vegan gravy because it takes just 3 minutes of active preparation time so it's easy to make just before you serve up your dinner.
This recipe is made extra tasty by the addition of my homemade vegan sausage seasoning which is the secret ingredient. I also give you some great substitutions for this.
I have simplified this recipe by limiting the number of ingredients and using everyday ingredients such as gluten free flour and vegan butter.
Ingredient Substitutions
Gluten-free flour: This recipe should work well with any flour except nut and coconut flours.
Vegetable stock powder: You can replace it with a different stock powder or stock cube of your choice.
Sausage seasoning: If you don't want to make my homemade seasoning, you can use the following seasonings instead: ½ teaspoon sage, ½ teaspoon onion powder, ½ teaspoon garlic powder, and a pinch of black pepper
Vegan butter: You can replace the butter for any butter of your choice or use olive oil or a different oil such as coconut oil. Oil won't be as tasty but will still work.
Tamari: Replace this with sea salt or vegan Worcestershire sauce. If you're not gluten free you can use soy sauce.
Water: Replace this with vegetable broth
The Structure Of A Plant Based Plate
Each of the recipes I create fits into my Plant Plate System. This system incorporates 5 food groups into every meal.
The 5 food groups are 1) Plant Protein, 2), Leaves, Fruit, And Veg, 3) Aesthetic Additions, 4) Nutrient Packed Carbohydrates, and 5) Taste
This recipe adds flavor to any dish. It falls under the "Taste" category on the Plant Based Plate and is not a complete meal.
The diagram below helps you visually see how this element features on a Plant-Based Plate.
Click here to discover more about my Plant Plate System and some of the benefits of eating this way.
Recommended Equipment
Here are the main kitchen equipment tools I have used to create this recipe.
How To Make This Recipe
Melt the butter in a pan.
Mix the flour, salt, stock and seasoning together in a bowl and whisk in with the melted butter.
Add water and whisk well.
Lastly add the tamari.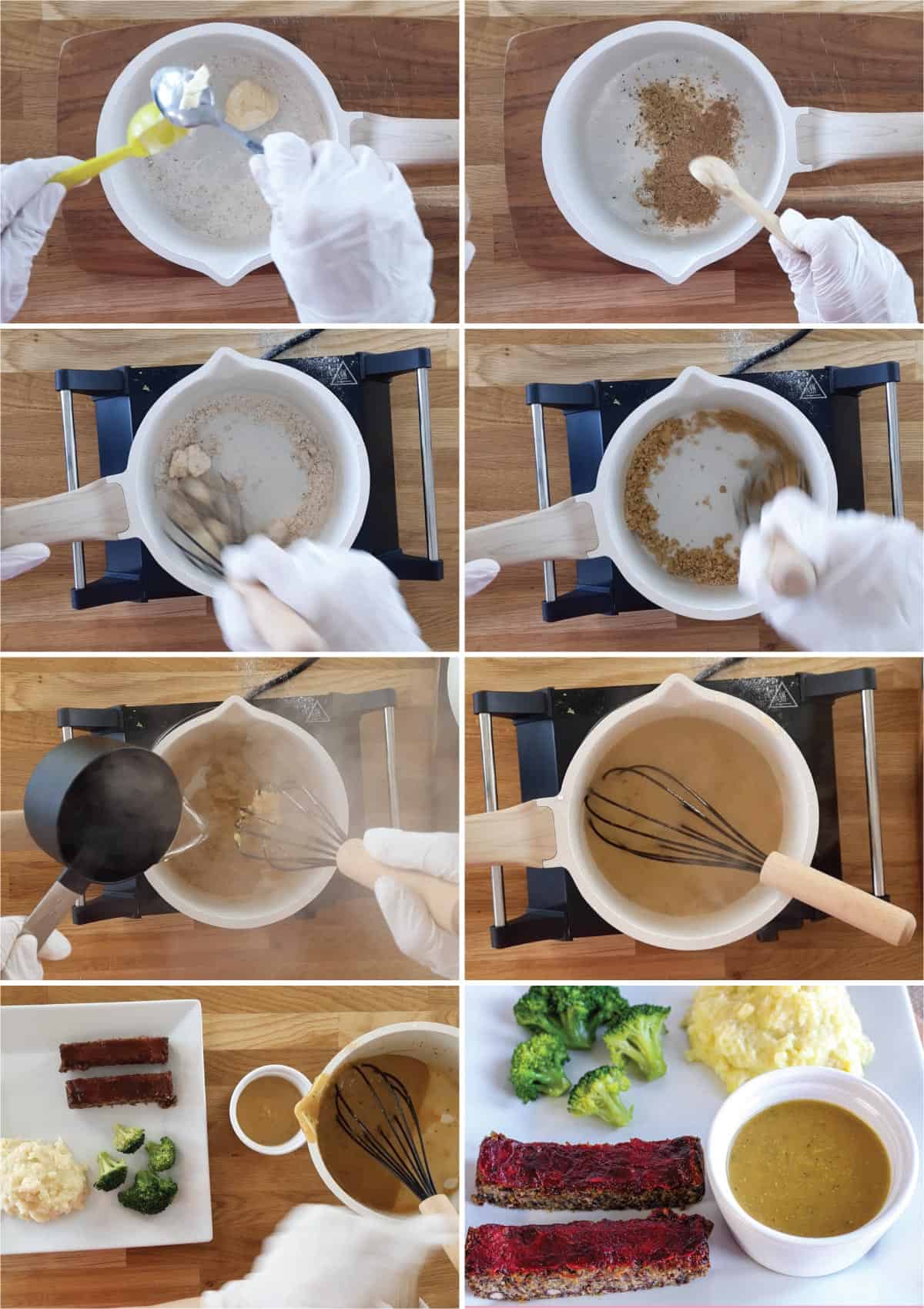 Ways To Use This Recipe
Here are some of my favorite dishes to serve with this gravy:
For Christmas Dinner
For Thanksgiving Dinner
Serve with vegan biscuits
For more options, see all of my best vegan, gluten-free carbs side dishes.
What Can I Use To Thicken Gravy That Is Gluten-Free?
The thickening agent in gluten-free gravy is the gluten-free flour. If you find your gravy is too watery, add more flour and mix it thoroughly. Cornflour, can also be used but you will need to make a paste of water and cornflour before you add it to the gravy. Arrowroot powder or arrowroot starch can also be used to thicken gravy.
How To Store Leftovers
This recipe keeps for up to 4 days in the fridge in an air-tight container. It also freezes well for up to 3 months. Defrost it before using it. Reheat it by warming it up gently in a pan.
More Tasty Sauces Recipes
This recipe is part of my vegan sauces series.
If you're looking for some more recipes that will go well with this gravy, check out some of my other recipes:
You can see all of my carboydrate side dishes here.
🥬️🥭️ 7 Day Meal Plan
If you want to discover all of the benefits of eating a plant-based, gluten-free diet, grab a copy of my 7-day meal plan by Green Thickies.
My 7-day detox has been doctor and nutritionist approved and featured on a major national TV channel.
Thousands of people have had incredible results with this meal plan.
Click here to read more about it.
FREE Gifts
🥗 Free Smoothies (Drink And Shrink) Bundle
For A Limited Time, Grab Your FREE 260+ Page Smoothies (Drink And Shrink) Bundle From Green Thickies.
Click here to grab your copy FREE.
🎩 5 Magical Fruit Recipes Book
If you're looking for some easy, raw, fruit-based, complete meal recipes, grab my free recipe book now.
Recipe
Quick Gluten Free Vegan Gravy Recipe
How to cook baked potatoes with the crispiest skin you've ever had. These British jacket potatoes are cooked without foil but there is another secret for getting the skins super thick and crispy with a fluffy potato center.
Ingredients
3

Tablespoons

Gluten-Free Flour Or Gluten Free All Purpose Flour

2

Teaspoons

Of My Homemade Vegetable Stock Powder

Or 2 Teaspoons Bouillon Powder Or 1 Stock Cube

1

Teaspoon

Of My Homemade Sausage Seasoning

Or ½ Teaspoon Sage, ½ Teaspoon Onion Powder, ½ Teaspoon Garlic Powder, And A Pinch Of Black Pepper

1

Tablespoon

(15g) Vegan Butter

1

Cup

Boiling Water

1

Tablespoon

Tamari
Instructions
Melt the butter in a pan over a low to medium heat.

Mix the flour, salt, stock, and seasoning together in a small bowl.

Add the flour mixture into the pan and whisk until it incorporates.

Add half of the boiling water to the pan and whisk it constantly. Then pour the other half of the water in and whisk until smooth. Bring the heat to a gentle boil.

Finally, mix in the tamari.

This gravy is pretty thick so if you like it thinner, add 1 tablespoon of hot water at a time until it reaches your desired consistency.
Notes
Storage:
This recipe keeps for up to 4 days in the fridge in an air-tight container. It also freezes well for up to 3 months.  Defrost it before using it. Reheat it by warming it up gently in a pan.
Nutrition
Serving:
87
g
Calories:
49
kcal
Carbohydrates:
5.3
g
Protein:
1.7
g
Fat:
2.2
g
Saturated Fat:
0.5
g
Polyunsaturated Fat:
0.8
g
Monounsaturated Fat:
0.9
g
Sodium:
1202.8
mg
Potassium:
42.1
mg
Fiber:
0.3
g
Sugar:
0.4
g
Calcium:
5.7
mg
Iron:
0.4
mg
Now it's your turn to make magic with food.
Latest posts by Katherine Kyle
(see all)